NICB recommends that drivers follow four "layers of protection" to guard against vehicle theft:
Common Sense — the common sense approach to protection is the easiest and most costeffective way to thwart would-be thieves. You should always:
• Remove your keys from the ignition
• Lock your doors/close your windows
• Park in a well-lit area
Warning Device — the second layer of protection is a visible or audible device which alerts thieves that your vehicle is protected. Popular devices include:
• Audible alarms
• Steering column collars
• Steering wheel/brake pedal lock • Brake locks
• Wheel locks • Theft deterrent decals
• Identification markers in or on vehicle
• VIN etching • Micro dot marking
Immobilizing Device — the third layer of protection is a device which prevents thieves from bypassing your ignition and hot-wiring the vehicle. Some electronic devices have computer chips in ignition keys. Other devices inhibit the flow of electricity or fuel to the engine until a hidden switch or button is activated. Some examples are:
• Smart keys • Fuse cut-offs
• Kill switches
• Starter, ignition, and fuel pump disablers
• Wireless ignition authentication
Tracking Device — the final layer of protection is a tracking device which emits a signal to police or a monitoring station when the vehicle is stolen. Tracking devices are very effective in helping authorities recover stolen vehicles. Some systems employ "telematics" which combine GPS and wireless technologies to allow remote monitoring of a vehicle. If the vehicle is moved, the system will alert the owner and the vehicle can be tracked via computer.
Before fire fighters arrived on scene, AVPSN members were alerted to this fire on Cathedral Hill via their radio network.
September 7, 2021
At 10am, one of our members observed a heavy column of black smoke at the end of his block. This member rushed to the scene and found the garage engulfed in fire along with 2 cars in the driveway.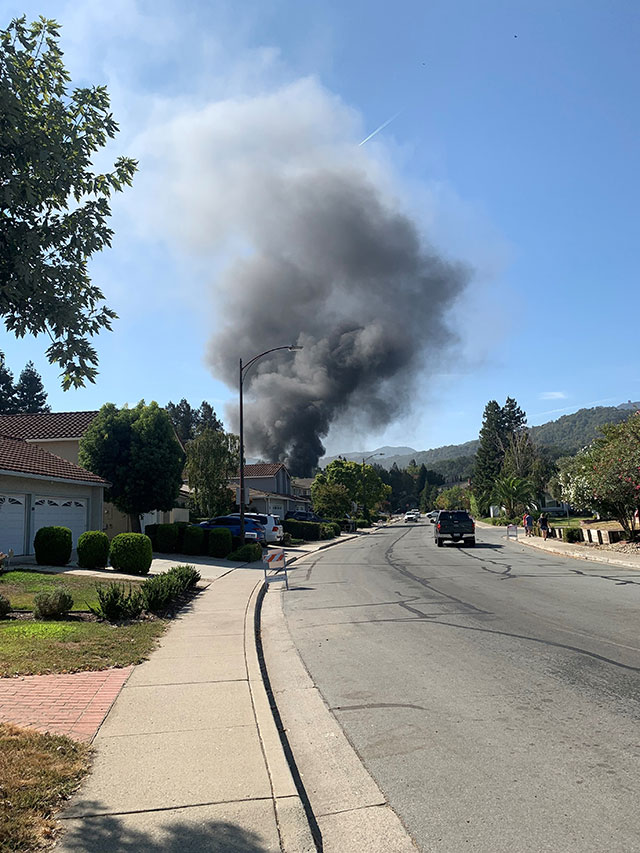 He attempted to enter the house to search for any occupants,
but the smoke and fire were too hot.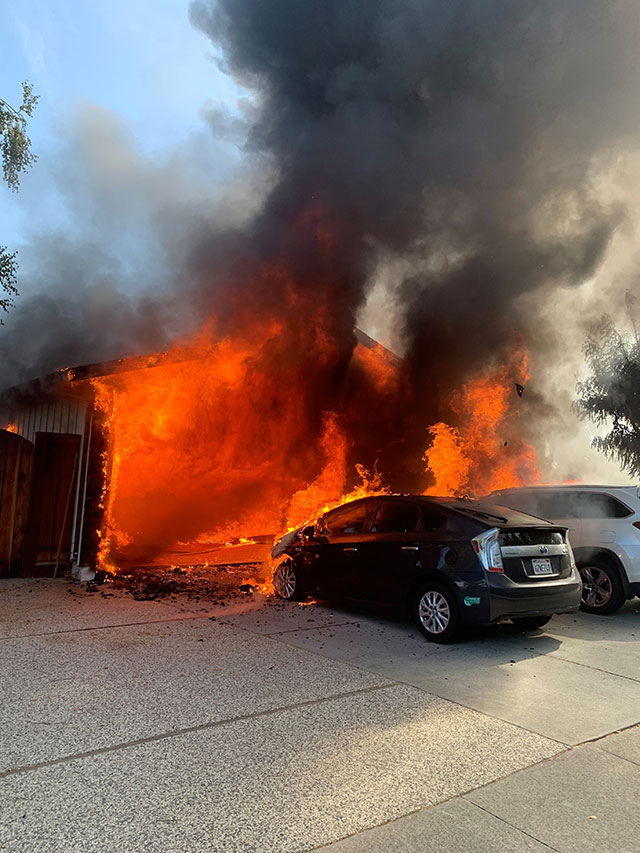 The fire department extinguished the fire. The house and cars were a total loss. Nobody was hurt.

The cause of the fire was a lawn mower battery which was removed from the mower, connected to a charger, and caught fire. The type of battery and time on charge is unknown.
This incident was discussed on the AVPSN nightly 7:45pm net. We learned that Lithium-ion battery fires are even more dangerous than fires from older type batteries because they release a flammable vapor that is toxic and which essentially produces its own fuel. Once the battery ignites, a thermal runaway quickly causes an explosion. The danger is enhanced if the battery has been damaged, or an incompatible charger is used or the charger is defective. A Class B fire extinguisher is effective against this type of blaze.
The risk of fire can be reduced by charging the battery outside away from other fuel sources and always using the appropriate charger.
And now the rest of the story:
The next day a small amount of smoke was seen coming from the house. The fire department returned and found papers in a metal box were on fire. Apparently, not all of the embers were extinguished the previous day. OOPS.
September 10, 2020
At 9:45am Station 22 and 28 were dispatched to a residential fire at the end of Brooktree Court in the Graystone neighborhood. Heavy smoke was seen rising from the roof of the house. A quick search of the house determined that the 5 residents were not home. Soon after the first two engines arrived, a second alarm was called. One firefighter suffered non-life threatening injury. The following photographs and video were shot by Steve Graystone.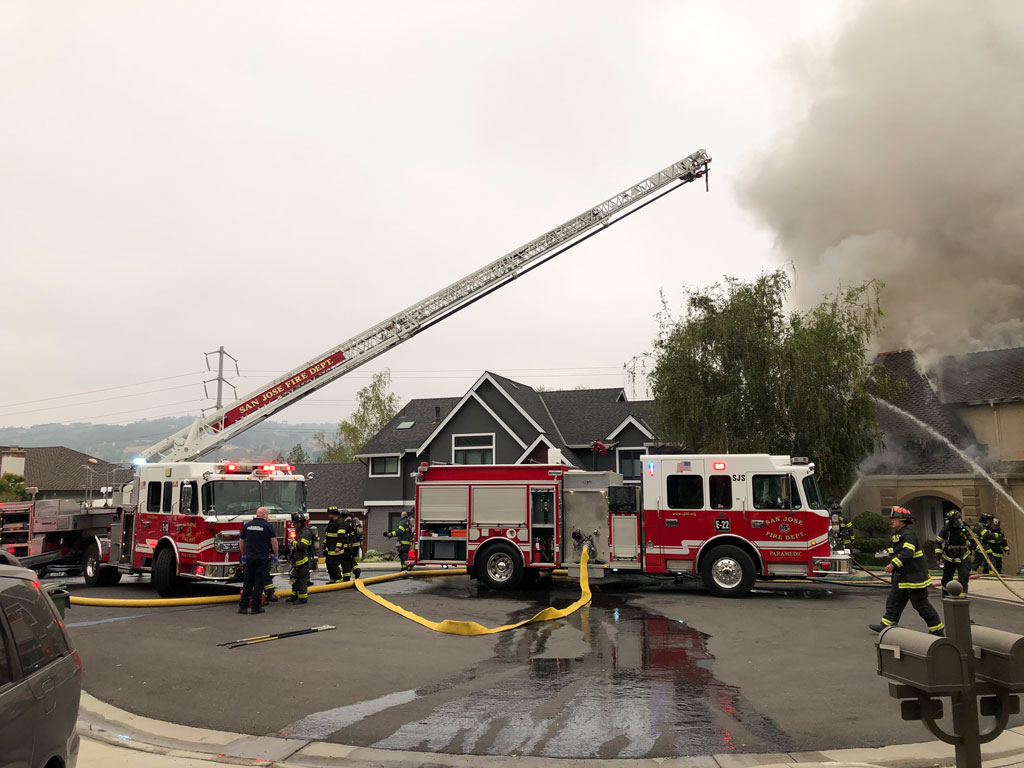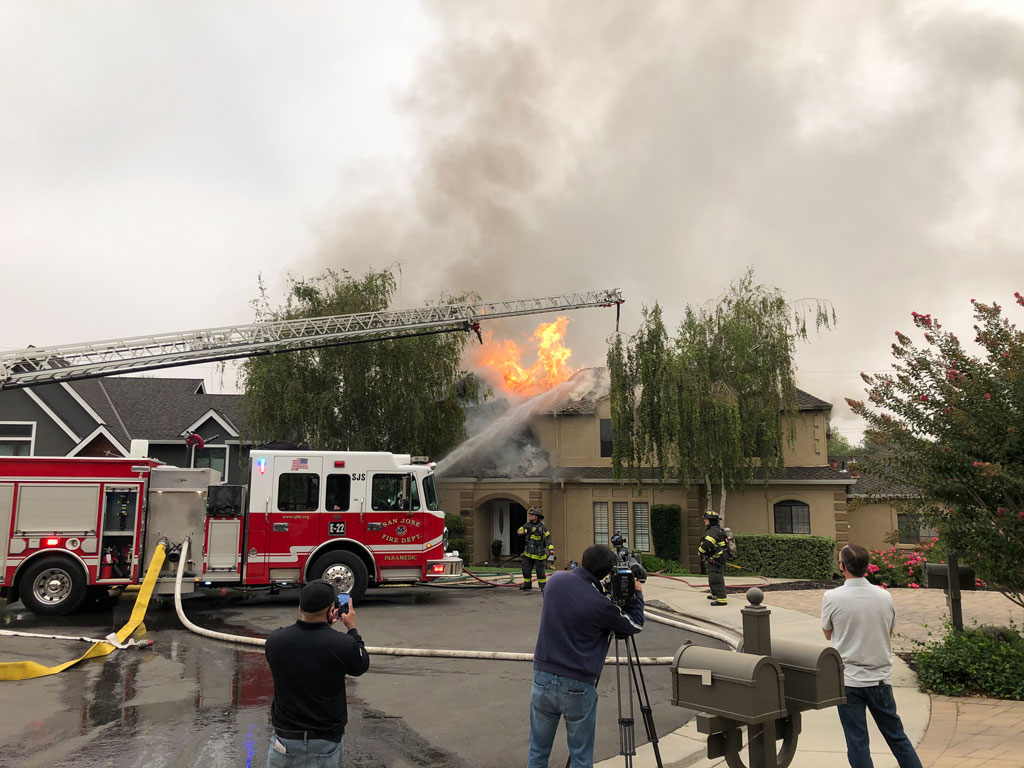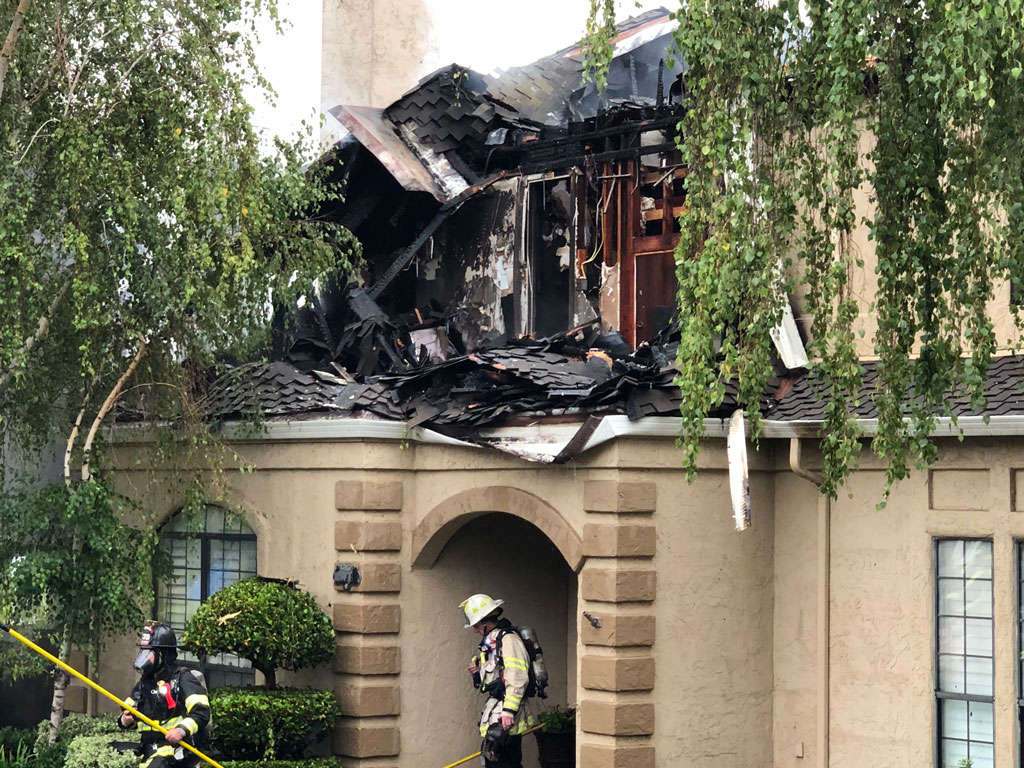 July 6, 2020
At around 5:00pm, smoke was reported in Quicksilver Park. Engine 28, 22 and CDF responded and strugled to gain access in the difficult terrain. Soon the fire was upgraded to a Tier 1 responce. CDF air attack was also requested; however, due to the multiple active fires in the bay area only 1 helicopter and one small fixed wing aircraft with fire retardant eventlually arrived from Santa Maria. The fire involved more than 1 acre and was declared under control at 7:30pm.
Arson is suspected. Four males were seen running from the area. The sheriff is still searching for the suspects.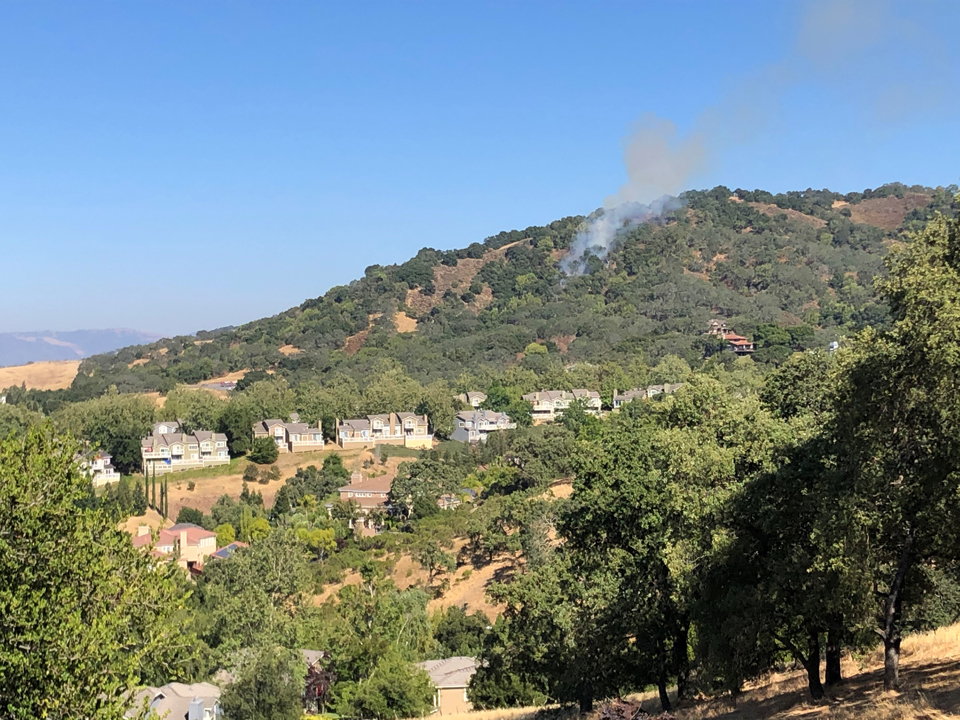 Photograph by Lucienne in Country View Custom Estates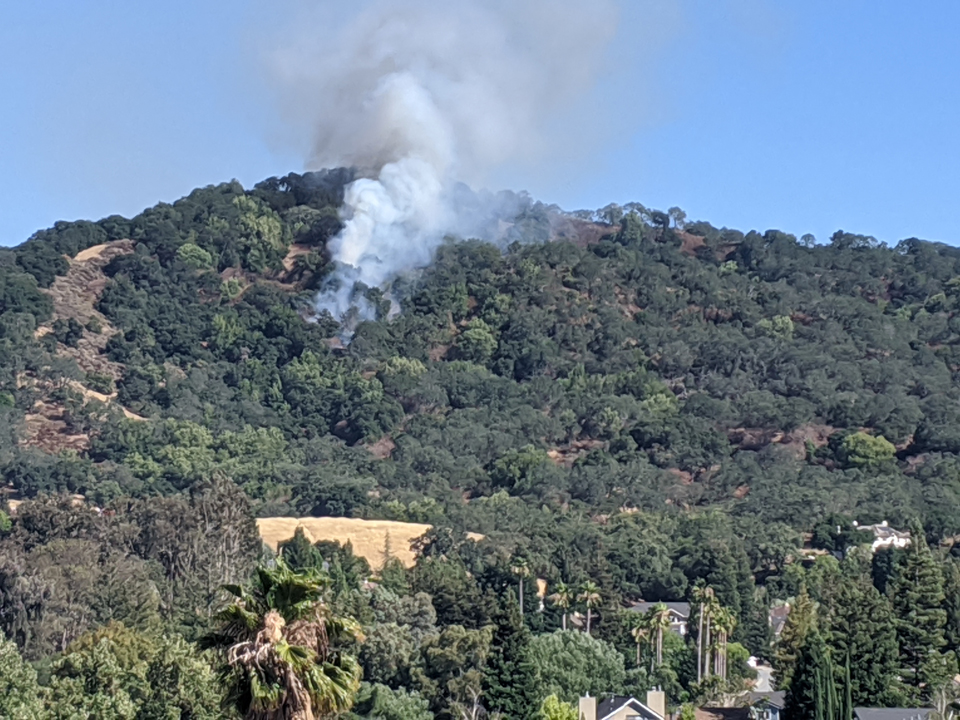 Photograph by Ken near Williams
| | |
| --- | --- |
| Video by Ken near Williams | Video by Mark New Almaden |
July 5, 2020 Pig Attack
Over night wild boars attacked the golf course on Boulder Ridge and caused thousands of dollars of damage. Thanks to the quick action of Brian at Boulder Ridge the culprits were caught on camera and reported to the animal police.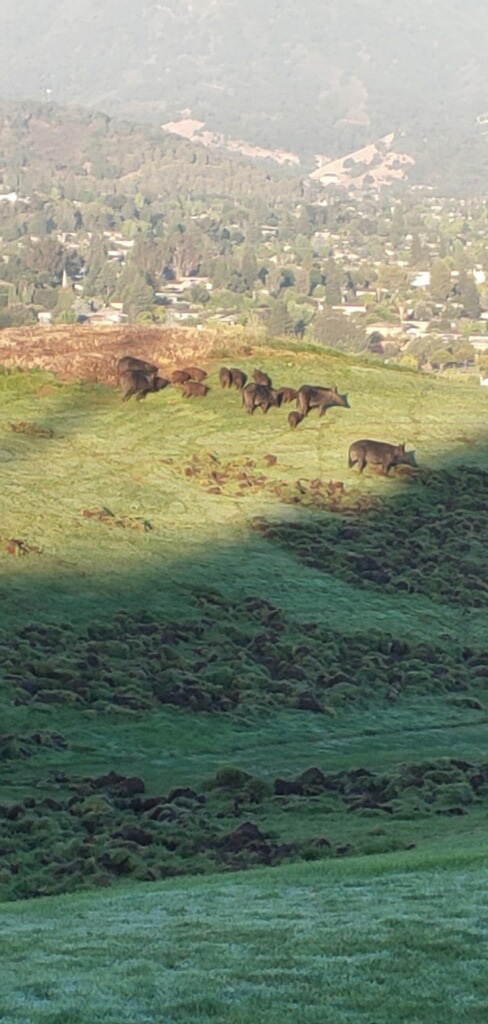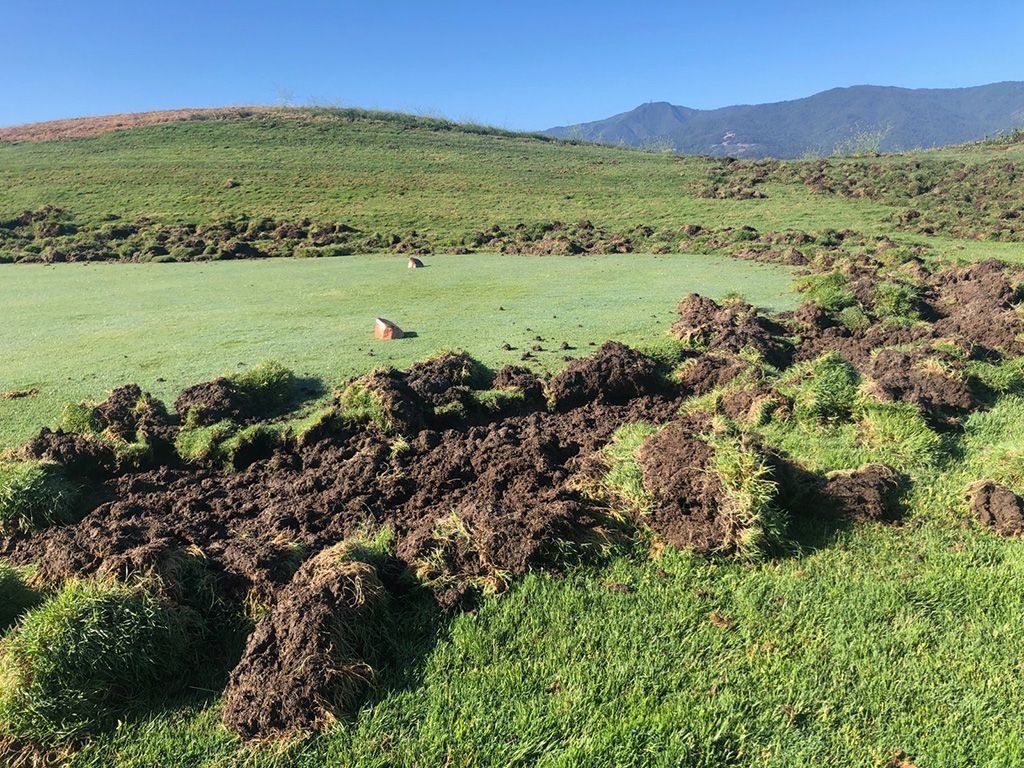 June 4, 2020
At around 6:00pm, smoke and flames were reported on Boulder Ridge presumably started by 2 or more arsons. While the fire was burning in at least 6 different locations on the hills, San Jose police and deputy sheriff officers apprehended 2 suspects still in the process of lighting fires on the hills.
The smoke and flying embers covered most of Almaden Valley. AVPSN members responded to help residents water down their roofs to protect against these embers catching their homes on fire.
The fires threaten homes along Deer Hollow Drive and evacuations were ordered. The fire department air attack put on quite a show until grounded by somebody flying a drone. That somebody was eventually apprehended and the air attack resumed.
The fire consumed 126 acres and fortunatley did not damage any structures. Residents were allowed back into their homes at 9:30pm. The fire was finally declared under control 2 days later.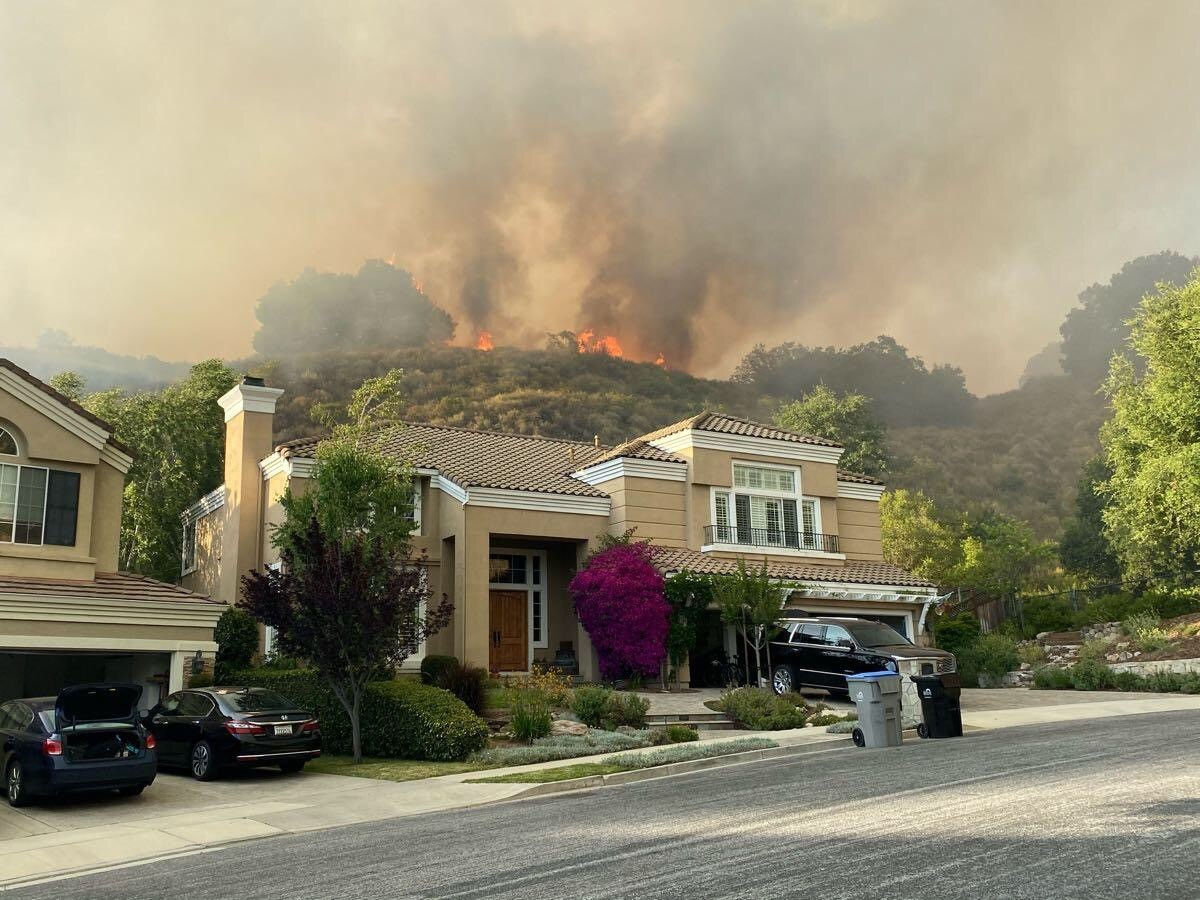 Photograph by Binh Le, Almaden
Photograph by Binh Le, Almaden
Photograph by Binh Le, Almaden
May 9, 2020
The MJ Maket on the corner of Almaden and Redmond was rammed by a pickup truck around 4am. It's been reported that the 3 perps were subsequently aprenended.
Don't anawer the door! We've said it many times and here's why:

February 10, 2020
This is a potential burglar imperrsonating PG&E but really casing a house. Note the ski mask around his neck. Also note he is wearing tennis shoes. Note the absence of PG&E logo. Always ask for ID or tell them to go away. Never open the door.

December 5, 2019 Home Invation and Burglary in Country Club
Be On The Lookout for this home intruder. He's armed and dangerous.
During the middle of the day, this person entered a home on Hampton Drive by smashing a window. He was carrying an exceptionally large knife and went through the house looking to see if anyone was home. Then he proceeded to ransack the house and ultimately made off with a significant amount of valuables. The police have all his fingerprints.
If you can identify this criminal, please contact the police and reference the event date, December 5, 2019.
Stolen Vehicles
According to the FBI, in 2018, a total of 748,841 vehicles were stolen in the United States.
For comparison:
Based on a US population of 329,450 million, 748,841 thefts is 31 thefts per 10,000 people

San Jose had 11,111 vehicle thefts in 2018. That equals 148 therfts per 10,000 people. That's almost 5 times the national average
For 2018, the most stolen vehicles in the nation were:
Click here for recommendations on how to guard against vehicle theft
If you see an abandon vehicle and suspect it might be stolen, you can run a check on this website:

Just enter the VIN number
Yes, we have mountain lions in Almaden Valley.
Be vigilant !
November 26,

2019
From my second story window, I saw this person approach my house and heard him knock on my door. I didn't answer because I was afraid it would turn into a home invasion which is very dangerous. The suspect then drove around the corner and came back to my house and jumped my 8 foot side fence and came into my backyard. I called 911.

San Jose Police came and cleared my house. He was gone before they arrived! He never broke into my house. San Jose Police said the car was used in other burglaries in our area and it's possibly stolen. It is a black Toyota Corolla with paper license plate and a dog bone sticker on the rear bumper.
I used AVPSN to alert Almaden Valley residents of this incident. A lot of advice was given on being safe and the radio network helped me by having our neighbors looking out for the stolen vehicle and the suspect.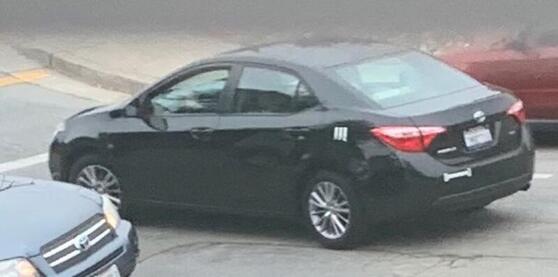 October 7, 2018
This is a house burglary in 95120 where a gang of 4 sucessfully stole jewelry, laptop, cameras, etc. Something to consider before buying a glass panel door.

December 2018
This fire occurred in the Almaden Mockingbird neighborhood.
The fire started in the garage. No occupents were hurt; however, two brave firefighters were hurt.